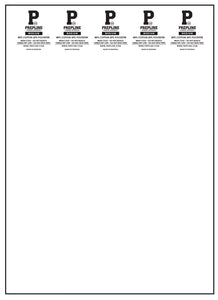 Direct to Film or DTF is a process that transfers prints onto fabric or other substrates using a heat-press mechanism. Unlike the DTG method, which only works on cotton fabrics, the Printer DTF method can work on cotton and poly blends.
Inside tagging is the best form of producing products that are retail ready. In this process, you remove the manufacturers tag from the shirt and replace it with a DTF printed tag that has your logo on it.
This makes your apparel recognizable to your brand/company. It changes it from 'just a tee shirt' to a branded apparel product. Fill your sheet with as many labels as you can fit.
Sizes: 2 x 3 or 3 x 3
Works On:
100% Cotton
100% Polyester
50/50 Blends
Nylon
Neoprene
To avoid art fees, all art must be provided in the colors you would like printed. Full-Color DTF transfers will be printed in CMYK.
Exact color matching is not provided.
Vector file format is preferred.

If raster images are provided, they must be minimum of 300 dpi at requested size on a transparent background set up in a 13" x 19" frame.
Upload a single image design file OR a design file with multiple images included (max size 13" x 19") and transfers will be shipped to you on a sheet, ready to cut and apply.
Preferred file types: .PDF, .PNG
Accepted files types: .AI, .SVG, .JPG, .PSD